Pos:
Company
>
Business News
>
Automatic large tile cutter brand—which brand of tile cutter is of good quality
NEWS CENTER
Present the latest real-time information for you
Automatic large tile cutter brand—which brand of tile cutter is of good quality
time : 2021-06-04 16:47
views : 4
With the continuous development of society and economy, most people choose tiles to decorate their houses, which has led to the rapid rise of many tile cutter brands. The cutter brands on the market are also growing, and the functions of cutters of different brands are somewhat different. As a result, some cutters still cannot meet the needs of users, and users can see the pros and cons of them. Therefore,It is inevitable that you will be more cautious when you machine, so which brand of tile cutter is of good quality?
Which brand of tile cutter is of good quality
Foshan Nanhai Hongyun Ceramic Machinery Co., Ltd. is located at No. 1, Third Industrial Zone, Baishaqiao Village, Nanhai District, Foshan City, Guangdong Province, China. It is a professional manufacturer of rock slab/tile deep processing equipment. The main products are: water jet cutter, rock slab cutter, arc polishing machine, tile chamfering machine, automatic tile cutter, CNC hand cutter, rock slab 45 degree chamfering machine, rock slab horse belly machine, dry hanging slotting machine, single group of multi-blade continuous cutters and other types of rock slab/ceramic processing equipment, have been engaged in the industry for 14 years, have mastered a number of core technology patents, and are leading the industry. Friends from all over the world are welcome to visit the factory for on-site guidance.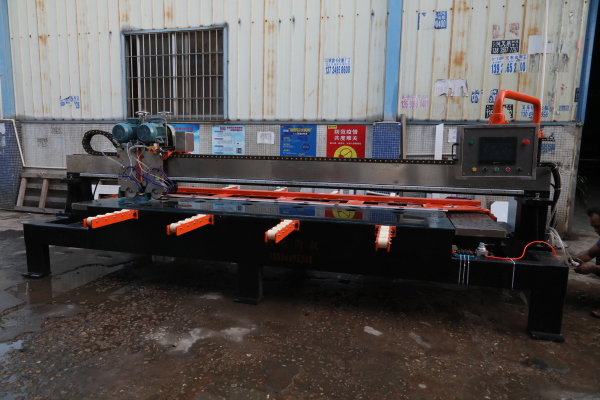 CNC rock slab double blade cutter
The main function of the CNC double-blade cutter for rock slab is to cut and trim the edges. It is mainly used for rock slab/ceramic, cutting straight line cutting, and can cut up to 3.2 meters X 1.6 meters of plates. It has a high speed and does not collapse or fall. Angle and other characteristics. This machine has an accuracy error within 0.1mm, high precision and stable cutting, and is suitable for cutting large slabs in rock slab processing plants/tile processing plants.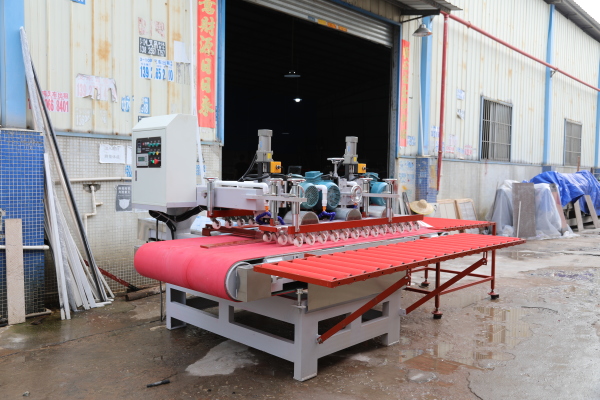 1800 type CNC three-blade cutter
This machine is mainly researched and developed for the cutting of rock slabs and large ceramic slabs. The functions are: batch cutting with trimming at one time without frying the edges and no corners; the maximum cutting size is: 1.8 meters, and the speed can reach: 5 meters per minute. It is suitable for cutting large-size rock slabs and ceramic tiles in rock slab/tile processing plants, with high precision and good cutting processing effect. One CNC three-blade cutter can replace five hand-push cutting machines. The processing cost is extremely low, and the cutting is stable. It is one of the indispensable equipment in the rock slab | ceramic tile deep processing factory.
Foshan Nanhai Hongyun Ceramic Machinery Co., Ltd. integrates sales, after-sales, and installation through one-stop service for every customer at home, one-to-one door-to-door installation guidance and training operation techniques. To establish long-term partners, we are willing to promote your success with excellent quality, professional and meticulous service, and create a better tomorrow with each other.