Pos:
Company
>
Industry News
>
Is tile chamfering machine practical? How much is a tile chamfering machine?
NEWS CENTER
Present the latest real-time information for you
Is tile chamfering machine practical? How much is a tile chamfering machine?
time : 2021-05-28 14:37
views : 18
With the continuous development of society, many people will use tiles to decorate houses.When decorating the wall, it is impossible to combine the corner parts with each other in compact, beautiful and tidy only by the tile cutting machine. This process requires another ceramic tile processing equipment, "tile chamfering machine".Tile chamfering machine relates to the processing machinery of stone, which includes motor, base plate assembly connected with motor fixing body, body parts and trolley parts connected with bottom plate assembly. The trolley parts are equipped with chamfering workbench. Motor drives spindle rotation of body components through transmission system, thus driving blade mounted on the inner end of main shaft to rotate, Realize the chamfering of ceramic tiles installed on the chamfering table. Tile chamfering machine also divided into different model and different functions.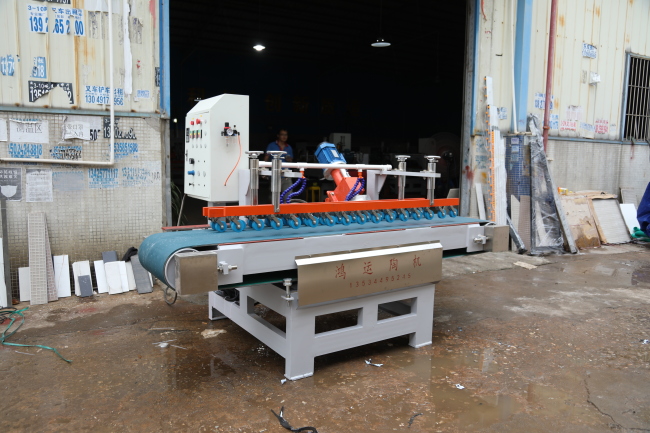 Double head ceramic tile chamfering machine
The double head chamfering machine of tile is a new type developed by Hongyun for processing the Begonia angle of ceramic tile. The main feature of this machine is that it has a baffle, high precision and no size head. Working principle: the chamfering wheel is used to chamfer the inner corner, which has high stability and low processing cost, and the chamfering speed can reach 3-4m / min. Main functions: chamfering inner corner, suitable for large batch of internal corner chamfering processing plants or construction site, is a high cost-effective chamfering machine, its price is about 25000rmb.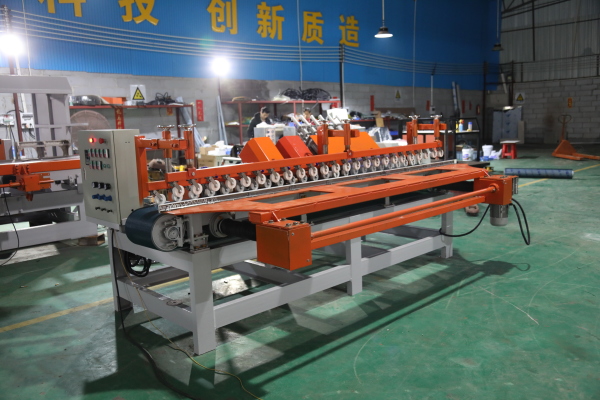 Six head tile chamfering machine
Hongyun hy-1200 six head tile chamfering machine is a kind of automatic machine developed by Hongyun for 45 degree chamfering polishing or inner corner chamfering on tile processing plant and construction site. The equipment is small in size and has multiple functions, can straighten the edges, 45 degree chamfering polishing and chamfering inner corner, etc. the chamfering processing efficiency is high, and the daily average processing capacity can reach 2500 meters (calculated according to 8 hours), The gloss of ceramic tile processing is up to 90%. With the advantages of fast processing speed, high accuracy and low damage rate, this machine is favored by real estate construction site and tile processing plant, with the price of about 33000rmb.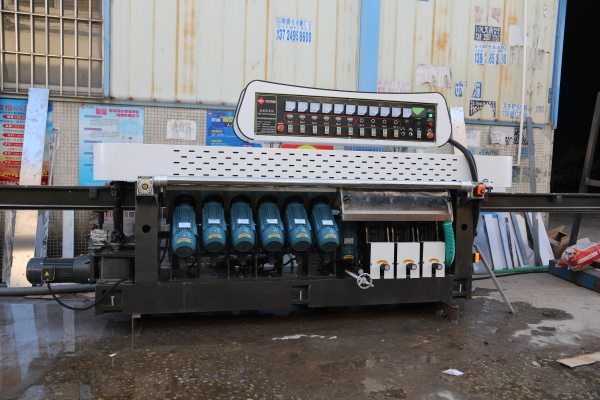 Hongyun 3200 automatic rock slab chamfering machine
3200 type automatic rock slab chamfering machine, the machine is suitable for processing the bottom side and straight line 45 degree of different sizes and thickness of rock slabs, the swing angle function panel can be adjusted to process large bevel. Rough grinding ,final grinding and polishing can be finish at the same time. After polishing, the gloss of plane is close to the parent surface finish. When adjusting different processing thickness, it has the advantages of advanced structure, high accuracy, convenient operation, continuous processing of the same thickness, and is a good processing equipment for deep processing of rock slab, with a price of about 75000rmb.
In the field of tile chamfering machine, the most advanced equipment is arc polishing machine. This machine not only has the functions of trimming, slotting, 45 degree chamfering, grinding round edges, and down chamfering, but also the price is not very expensive, only 95000 yuan is required. It is a new design concept, fully automatic operation, and it can be processed quickly while saving labor. It has a service life of more than 10 years. It is suitable for medium and large stone processing and tile processing plants.